Otis Anderson Jr., a former University of Central Florida football star who had a brief stint in the NFL, was reportedly killed in what has been called a possible double domestic violence shooting at a home in Jacksonville, Florida, on Monday night.
The 23-year-old football player and his mother, Denise Anderson, were allegedly shot around 9:30 p.m. Monday, according to News 4 Jacksonville. Otis Anderson Jr. reportedly died from his wounds, but according to reports, his mother, Denise Anderson, who was hospitalized after the incident, is expected to recover.
Multiple news outlets reported Tuesday that the shooting was allegedly carried out by Otis Lee Anderson Sr., who is Anderson Jr.'s father. Anderson Sr. was arrested and booked in Duval County Jail on charges of first-degree murder and first-degree attempted murder,First Coast News reported. Video footage of a court appearance on Tuesday showed Anderson Sr. in a red inmate jumpsuit as his charges were read aloud. He is being held without bond.
The Jacksonville Sheriff's Department said investigators believe that the alleged shooting was a domestic incident and that all three individuals are thought to be related.
Newsweek has contacted the Sheriff's office for additional comment and will update this story as more information becomes available.
Anderson Jr. spent four years playing football with the UCF Knights, amassing over 3,200 total yards while scoring 32 touchdowns, according to NBC Miami. This past summer, he signed a free-agent contract with the NFL's Los Angeles Rams before he was released by the team in September.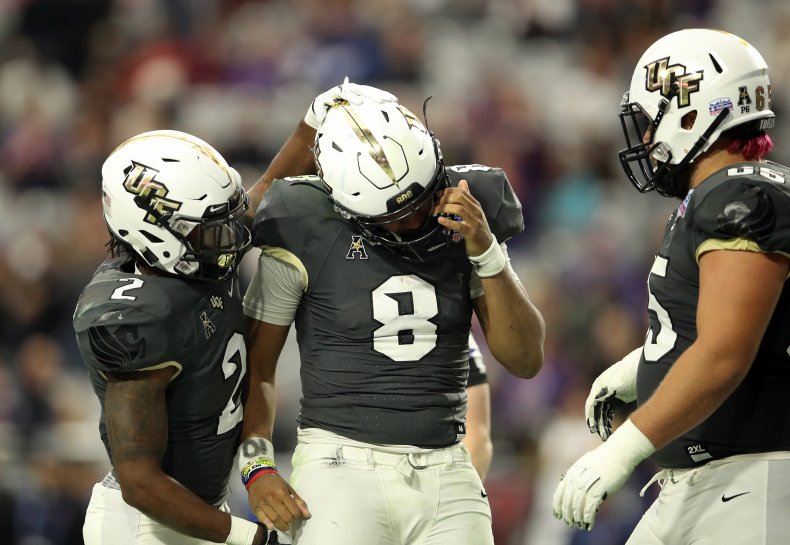 On Tuesday, dozens of supporters, fellow teammates, and fans offered their condolences over his death.
"Saddened and stunned by the passing of Otis Anderson Jr. Tough and gritty, fun and full of laughter, he made such a positive impact on our university, community, and our locker room. He was an unbelievable teammate. My condolences go out to the entire UCF family," former UCF head coach Josh Heupel tweeted Tuesday.
A number of fellow players also honored Anderson Jr. on Tuesday, with some calling him by the nickname "Juice."
"I'll never forget that million dollar smile Juice..heartbroken is an understatement. I'll see you again one day lil bro," tweeted Florida State University football quarterback McKenzie Milton.
"He was a lifter, he was the person that brought everybody else together. Just selfless. … Just wanting to see other people succeed. Never a dull moment around. He was hilarious. Always cracking jokes," added former UCF and Ed White High offensive lineman Jordan Johnson said Tuesday, according to News 4 Jacksonville.
Several Rams players, including Jalen Ramsey, Terrell Burgess, Sebastian Joseph-Day and David Long Jr. also took to social media to share their thoughts and prayers for Anderson Jr.
"Rest in Heaven Otis 🙏🏾
We gotta do better on this earth smh. Big prayers up 🙏🏾," wrote Ramsey.