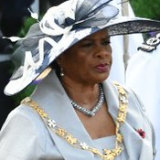 During the short visit this month, he is expected to make a speech acknowledging the end of an era for the monarchy, and emphasising the country's continued Commonwealth links.
Barbados was one of 16 remaining realms, including Australia, where the Queen is head of state. Republicans hope the move will prompt other countries to follow suit in a "domino effect". Jamaica is expected to be next in declaring itself a republic.
The palace has always said it is a "matter for the government and people" of each realm to decide.
Barbados intends to remain part of the Commonwealth but will replace the Queen's portrait on its dollar bill.
Last year, Mason delivered the "Throne Speech" at the state opening of the Barbadian Parliament, saying: "Having attained independence over half a century ago, our country can be in no doubt about its capacity for self-governance. The time has come to fully leave our colonial past behind."
Loading
The Queen last visited the island in 1989. Her remaining realms are Antigua and Barbuda, Australia, Belize, Canada, Grenada, Jamaica, New Zealand, Papua New Guinea, Saint Kitts and Nevis, Saint Lucia, Saint Vincent and the Grenadines, the Solomon Islands, and Tuvalu.
Mason, a 72-year-old former teacher, magistrate and judge, has been governor-general since 2016 and was the first woman to serve on the Barbados Court of Appeals.
The island is the first realm to become a republic since Mauritius in 1992.
It joins three other republics in the Commonwealth Caribbean: Guyana, which replaced the Queen as head of state in 1970; Trinidad and Tobago, in 1976; and Dominica, which became a republic at the same time as declaring independence in 1978.
Loading
Princess Margaret represented the Queen at the independence ceremony in Dominica, delivering a message on behalf of her sister.
No members of the royal family attended events for Guyana or Trinidad and Tobago, the Queen opting instead to send messages of thanks and congratulations, and host the outgoing governors-general.
The Telegraph, London